Stay Ahead in uncertain times: how to future-proof your business with BPM.
How to optimise and futureproof your business successfully: here are Avertim's key findings from accompanying 60+ companies in deploying their Business Process Management approach.
From climatic and economic challenges to fast -paced digitalisation, today's businesses operate in a volatile, uncertain, complex and ambiguous (VUCA) environment. To remain agile and future-proof, organisations need to increase their capacity for continuous improvement and innovation, as well as ensuring that their processes are efficient, flexible, and aligned with their strategy. 
One proven response to VUCA environments is Business Process Management (BPM). The BPM approach is highly successful when used correctly, allowing companies to optimise and enhance business operations. 
---
Here's what Avertim have learned about future-proofing your business over our years of helping clients to deploy BPM in their organisation. 
What is Business Process Management? Lessons learned from 60+ deployments.
Business Process Management is a systematic approach to managing and improving the organisation's processes and operations. It is based on a complete lifecycle of enhancing the way the company understands, performs, and refines its processes.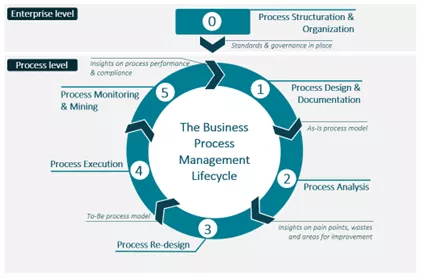 Before the lifecyle can begin, a successful BPM deployment relies on creating a strong foundation through Process Structuration and Organisation.
Define a common process language that everyone in the organisation can understand and use. Various notation standards already exist (e.g.,BPMN 2.0,ECL,BPML,etc...).
Then select a digital modelling tool/BPM platform, such as ARIS, Signavio or Visio.
Frame the overall organisation process structure.
Lastly, establish governance to prioritise the portfolio according to the organisation's strategic objectives. This governance should identify the right instances, and their interactions and ways of working, to ensure an efficient BPM deployment and maintenance.
BPM: Implementing a successful Continuous Improvement lifecycle
The first lifecycle step (Process Discovery, Design & Document) defines the "As-Is" process state with as much surrounding information as possible.
This step often required discussions and workshops with process experts, which we have found can take a lot of time. To accelerate mapping, our clients have access to a team of trained, experienced, and specialised Avertim facilitators. This ensures timely process mapping and high-quality documentation. 
Once the process is mapped, it is analysed. We identify pain points, wastes, and highlight potential areas for improvement (Process Analysis), applying Operational Excellence (OpEx) methodologies to support the continuous improvement of processes. 
The results of this analysis may lead to a revamping of the initial process: creating a "To-Be" process version (Process Redesign). This new version is then implemented in real-life conditions as an executable model (Process Implementation).
Supported by responsibility models such as RACI (Responsible, Accountable, Consulted and Informed), and aligned KPIs and activities, the company can gather data and evaluate how efficiently the new process is performing (Process Monitoring). This step can drastically be boosted with effective Process Mining.
Those findings are then documented, and a new cycle begins. Change is challenging, so in addition to support throughout the BPM process, our Change Management capabilities assist our clients in sustainably embedding BPM in their company's culture.
What are the benefits of the Business Process Management ? 
In our experience, and when correctly implemented, BPM is a powerful enabler for enhanced efficiency, reduced operational cost and improved customer satisfaction.
BMP enables the company to take back the control of its own knowledge through the creation of a holistic repository. It becomes a one-stop-shop for employees to access to the right information at any time. This allow the organisation to have:
End-to-end view: prior to BPM deployment, many companies we accompanied were working in departmental silos, lengthening the execution of their operations. to end-to-end view provided by BPM highlighted the interactions between processes and significantly reduced overall lead-time.
Standardised execution: working with multinational companies, we saw many of their sites developing different ways of executing the same processes. using a specific methodology and language, they were able to better understand and harmonise their local processes, leading to a homogenous quality.
Strong support for other transformation initiatives: designing the process is often a prerequisite for transformative projects, like automation, new system introduction,etc. Having a defined BPM methodology speeds up their implementation.
Clear task assignment: process mapping helps define the best training path for each role and eases the onboarding of newcomers.
Knowledge sustainability: when experts leave a company there is often a major impact on process knowledge. Thanks to a BPM approach, that risk is mitigated, and knowledge becomes sustainable.
Avertim's 3 proven tactics for BPM excellence.
Based on our extensive experience, we recommend that companies who want to excel in BPM deployment should:
---
BPM tailored to your needs
Does your business want an expert guide to implementing this proven optimisation approach?
Avertim is your ideal partner, offering a tailor-made BPM solution roled out according to its clients' organisational needs. This allows our customers not only to achieve short-term gains, but also to make a strategic shift towards long-term success.